Loisiarte
18.
Januar, 2012
0 Kommentare
My first visit to the LOISIUM in Langenlois in 2005 deeply impressed me. The special architectural and artistic concept as well as the unique atmosphere of the subterrestrial and overground premises in connection with the encounter with nature left a lasting impression on me. The creation of a festival on music and literature in these surroundings seemed a thrilling task. In cooperation with Dkfm. Gerhard Nidetzky, a partner of the LOISIUM, the plan to develop the LOISIARTE emerged.
My vision of the LOISIARTE was mainly inspired by two striking characteristics of the LOISIUM: the beautiful natural setting allowing the combination of culture and nature on the one hand and the confrontation of tradition and innovation on the other hand.
This idea inspired us to base our program on the four elements, the concept of which represents a keystone of occidental culture.
Each year, the Loisiarte will focus on a contemporary composer or poet, as an expression of the constant change and renewal occurring in nature. The works of this artist will be contrasted with compositions and texts of old masters.
At the same time the highest artistical quality is top priority, which is reflected also in the engagement of internationally renowned artists.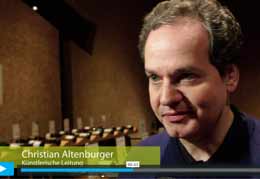 Abgelegt unter: